Determine if you've got actual meniscus tear symptoms with these simple tests and if you do, exercises you must do that you won't find elsewhere to help you heal.
Knee pain can put a huge damper on your lifestyle. It can be hard to hit the gym, compete in your sport, or even walk around the block when your knee is acting up.
The first step to addressing any knee issue is to uncover the root cause. One of the potential culprits behind knee pain is a meniscus tear – and trust me, I know this all too well.
At the time of writing this article, I've been dealing with a mild medial meniscus tear for about 2.5 months.
My knee had quite a bit of swelling that started a couple of hours after injury, was quite stiff, limited in both passive and active flexion by pain for the first week after the injury and it slowly improved every week thereafter.
I knew right away what it was because of the mechanism of injury (full knee flexion + tibial external rotation) and response to a couple of tests that you'll learn how to perform in a minute.
MENISCUS INJURY UPDATE (March 13/20)
It's been about 1.5 years since I injured my meniscus and I'm at 98% of what I was – the only thing missing is perhaps 2-4° of passive knee flexion when I'm pulling my heel to butt like the traditional standing quad stretch or kneeling with my feet pointed.
An interesting thing is that if I activate my hamstring before I stretch my quad or kneel, I have full range, so it may have to do with the tibia being translated too far anteriorly when I get into that range, as the hamstring will prevent this.
Overall though I'm good to go as I'm not limited in any exercises, sports or activities and because I avoided surgery, I've avoided the increased risk of accelerating osteoarthritis when I get older.
Because the meniscus is a type of connective tissue, healing is slow. In this article I'll outline what you can do to make healing occur as fast as possible but remember – damaged connective tissue increases the risk of more severe damage that could take many more months to heal, so don't rush it.
What is the Meniscus?
Your menisci are wedges of cartilage that sit between your femur and tibia to add cushioning to the knee joint. You've got two in each knee – a medial and a lateral meniscus.
They are thicker around the outside edges of the joint, which creates their wedged shape. These thicker edges get better blood flow – they are sometimes called "red zones."
An injury to the red zone tends to heal more easily than a tear to the thinner, less vascularized "white zone" that makes up the inner two-thirds of your meniscus [1].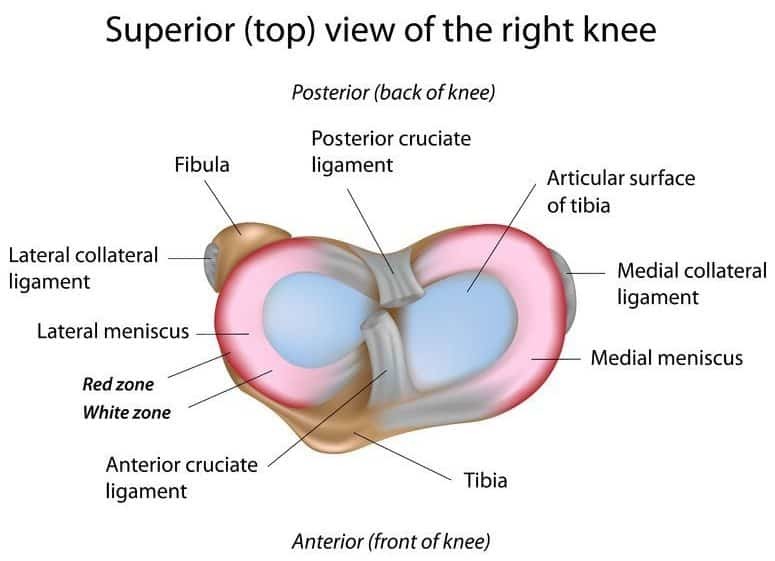 Your menisci are kind of like shock absorbers. They work to absorb some of the stress that passes through the joint as you walk, run, or jump around.
And the forces absorbed in your knee are no joke – the force from walking in the knee can be 2 to 4 times your body weight. When you run, the knee has to absorb as much as 6 to 8 times your body weight [2].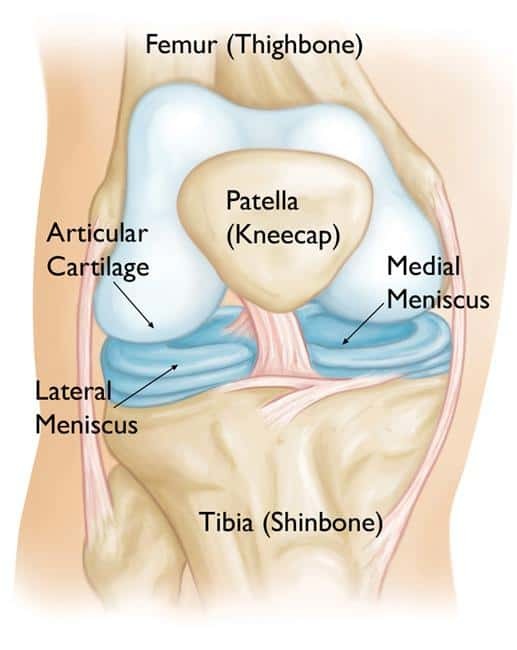 Image by www.orthoinfo.aaos.org
Your menisci do more than just absorb massive forces. These wedges of cartilage also increase the stability of your knee joint by increasing the contact area between the femur and tibia by almost 3 times [3].
Share this Infographic On Your Site
Meniscus Tear Symptoms
Like I mentioned before, a meniscus tear often occurs when there is full knee flexion and tibial external rotation.
You might feel a pop when the injury happens, but you'll probably still be able to walk on the knee. Over the next couple of days, the swelling and pain will increase a bit [4].
If the tear is minor, the initial symptoms will improve, but you'll likely experience mild swelling for up to a week and mild general knee pain at rest for up to a few weeks. These are the kind of meniscus tear symptoms I experienced a few months back.
If the tear is a more severe moderate tear, the swelling will continue to increase after the first couple of days, instead of getting better. Bending will probably cause you pretty sharp pain in these cases [5].
If you've got a severe tear on your hands, your symptoms will probably look different. These kinds of symptoms can happen when part of the torn meniscus gets stuck in the joint space, interrupting movement.
You might feel like your knee is unstable, or that it is going to give out. You might be unable to straighten the knee all the way or feel popping or catching sensations in the joint [6].
Muscle Strain or Torn Meniscus?
If you're unsure if a meniscus tear or a muscle strain is causing your pain, there's a really simple way to rule out a muscular issue.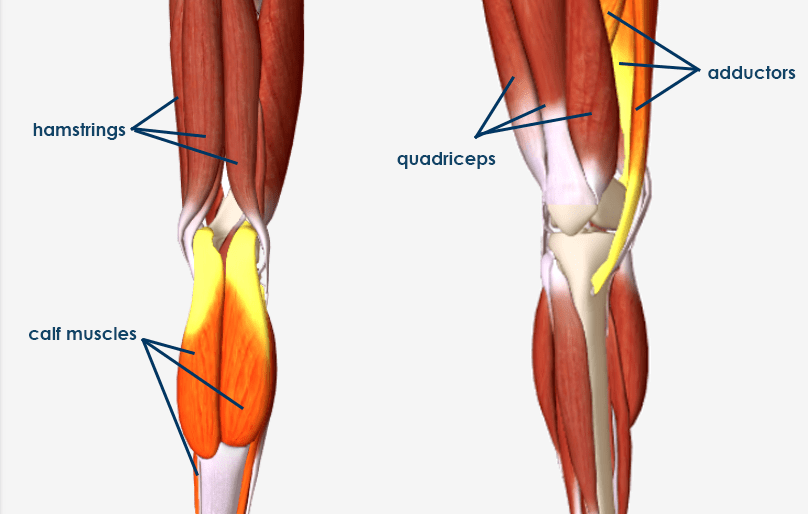 Simply try to isometrically activate the muscles around your knees. Experiment with activating your quadriceps, hamstrings, adductors, calf muscles, or anything else you think might be involved.
If the muscle is at fault, a strong isometric contraction should increase your pain.If these contractions fail to aggravate your symptoms much, a connective tissue injury like a meniscus tear is probably to blame.
Medial or Lateral? Simple Meniscus Tear Tests
You can start to figure out where exactly your injury is, plus what kind of tear it might be with some easy movements.
The first test gives you a general idea about where your injury might lie – palpation.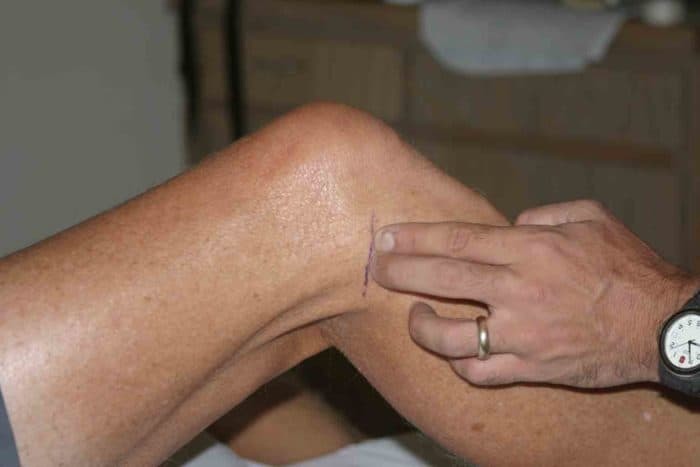 With your fingers, start feeling around on either side of your knee. You should be able to feel the joint line – an indentation or gap between the tibia and femur.
Start to add some pressure as you feel around on both the medial and lateral sides of the joint line.
If you are tender on the lateral side of this area, it points to a possible lateral meniscus injury. If you find tenderness on the medial joint line, it's probably a tear to the medial meniscus.
Another test you can use is open chain tibial rotation.
Go ahead and sit on the ground for this one. Lift your affected leg off the floor and actively bring your knee into flexion.
It's likely you'll hit a point where there's pain – stop there.
From this point, start to rotate your tibia externally – pointing your toes out to the side – and then internally – pointing your toes in toward the midline.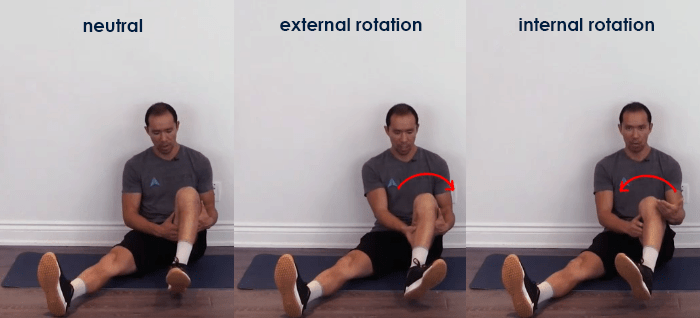 If external rotation increases your pain, it suggests a medial meniscus issue. If internal rotation flares things up, it suggests a lateral meniscus injury.
The last test is another simple one – full knee extension.
Stay seated on the floor and try to straighten your knee. If it feels locked and you're unable to do so, you might have either a bucket handle tear or a flap tear.
In these injuries, a portion of the torn meniscus gets folded over on itself inside the joint, preventing full range of motion.
If this is the case, you can try to facilitate healing by using traction.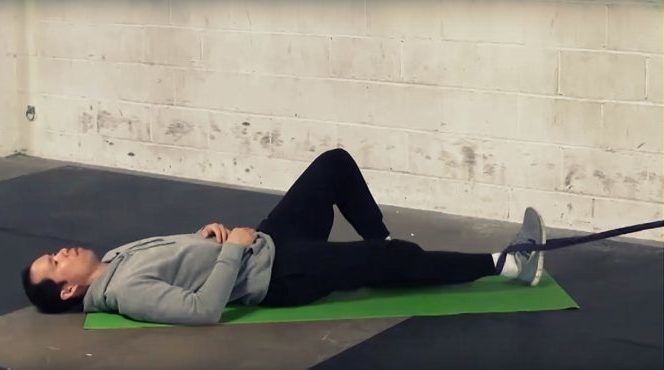 Just use a band around your ankle and lie down on the ground with the band pulling away from your body. This simple method can distract the joint and provide extra room to encourage that flap to go back in place – which if it does will help quite a bit in alleviating your meniscus tear symptoms.
If your pain is focused more toward the front of your joint line or the rear, there's a chance it could suggest an injury to either the anterior horn or posterior horn of the meniscus.
There are a number of other types of meniscus tear based on location and direction of the injury, like transverse tears or longitudinal tears. Diagnosing the various types might only be possible with imaging like an MRI.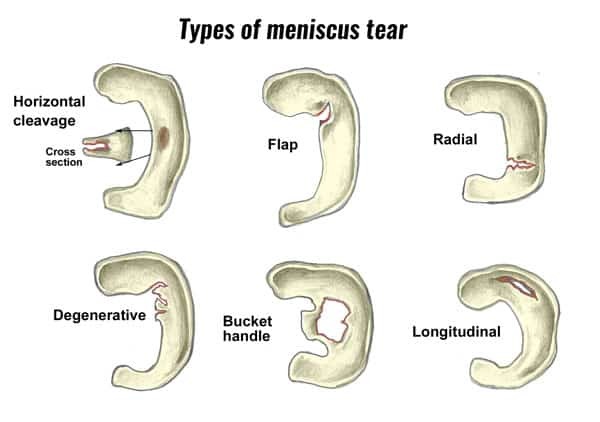 Image by www.sportsinjuryclinic.net
Regardless of what kind of tear you have, there are some critical exercises you must use to heal your knee.
Meniscus Tear Recovery
Before we dive into the treatment, I want to mention an interesting 2013 study on physiotherapy versus surgery for meniscus injuries.
The study followed 351 patients, half of whom had surgery and half who did not, but did receive physiotherapy. At both 6 and 12 months, there were no major functional differences between the groups [7].
However, about 30% of the initial physio group ended up moving over to have surgery.
My take on this?
You might as well start with exercise in cases of meniscus tear and see how it goes. If after months of trying, you're not getting anywhere, surgery might be a good option. But if you can avoid it and instead address the problem with exercise, why wouldn't you?
Now, let's get into recovery step-by-step.
Acute Phase
When you're dealing with that acute pain and swelling, following the old tried and true RICE method is a good idea – Rest, Ice, Compression, and Elevation.
Apply ice in 15 minute bursts and definitely take it easy and rest your leg for a day or so until the pain improves.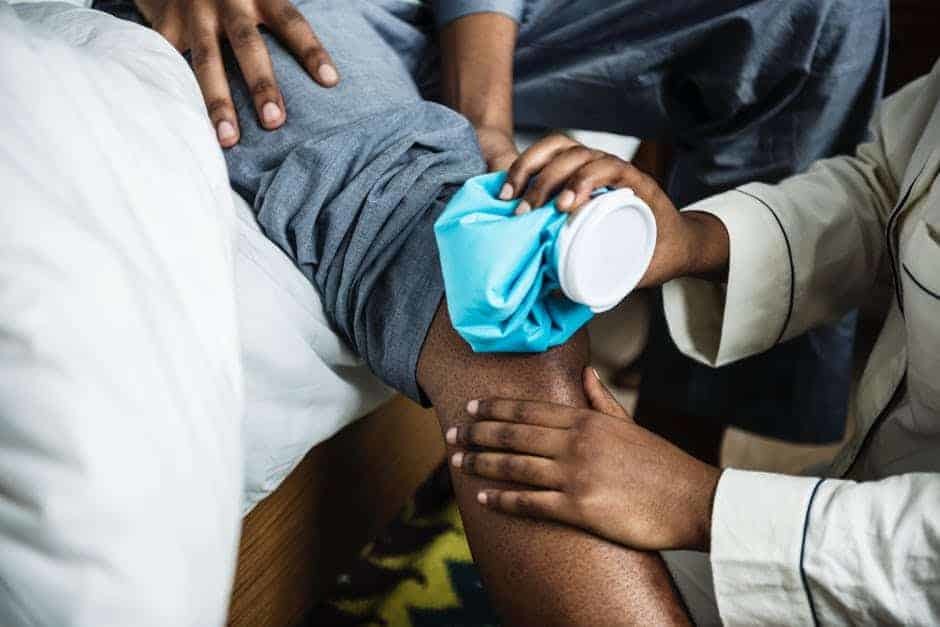 You can help speed the healing by focusing on an anti-inflammatory diet or using a supplement like collagen or turmeric. PuraThrive has some great turmeric options to make supplementing easy.
Bring in Movement
As soon as you can, you want to start moving through your pain-free range of motion. This helps bring in blood flow and nutrients.
Just like your muscles or tendons, your menisci respond to force. These wedges of cartilage are use it or lose it. If you avoid loading the tissues, your body won't adapt and make the tissue strong.
Instead, you've got to stimulate recovery and build strength through movement.
Start out slow, making sure to stay only in your pain-free range. But don't rest that knee for too long, either. Bring in gentle movements, and then as you start to progress in your healing, we'll start to progress the intensity of movement.
Return to Exercise
Now it's time to start to incorporate some exercises that will help you rebuild strength and recover from a meniscus tear.
I've got 4 moves for you. Take it slow with these moves, especially early on in your progress. Be patient and persistent and you should start to see results.
1) Open Chain Tibial Rotation
This first exercise is a great warm-up for your healing knee. It is a good, easy way to encourage blood flow without putting a lot of pressure on the joint.
It will help prepare you for the additional drills to come, plus it is a great way to restore and activate a proper movement pattern in your leg.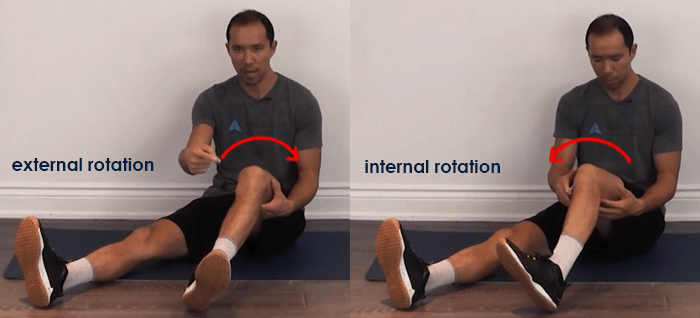 Sit down on the floor and come into your end range for active knee flexion – stop when you get pain and back off a little bit
From this point, place your heel on the floor and externally rotate the tibia. Hold for 5 seconds
Next, internally rotate the tibia and hold for 5 seconds.
Complete 3 reps of both internal and external rotation
2) Bodyweight Squats
Squats a great way to track your progress. Make it a habit to perform this exercise regularly and pay attention to how deep you're squatting and how you feel doing so.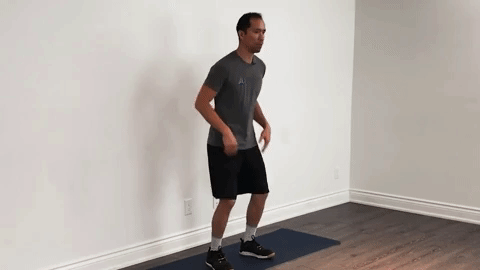 I suggest performing 10 reps and squatting down to your end range – where you start to feel pain.
The particulars don't matter – use your preferred squat method. If you usually do front squats in the gym, use that stance. If you prefer back squats, set up as you normally would.
As your meniscus begins to heal, you should notice that you'll be able to squat deeper and deeper without pain.
3) Hip Bridges with Ankle Plantarflexion and Dorsiflexion
While squats are great at building strength in the knees from above by strengthening the quads and hamstrings, this next move helps round out the picture.
This exercise strengthens and stabilizes the knees from below by working muscles like the gastrocnemius, soleus, and tibialis anterior.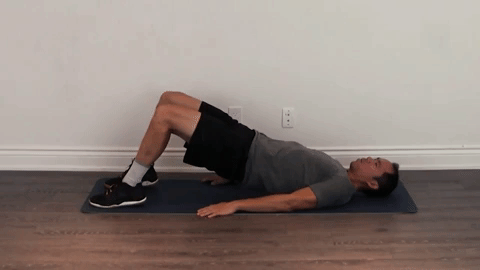 Lie down on your back and actively flex your knees.
When you feel pain, back off a bit and plant your feet with knees bent up toward the ceiling.
Activate your glutes to lift your hips up into a bridge
Keep your pelvis lifted as you start to plantarflex your ankle, activating the calves to lift your heels up and press your toes into the ground
Hold the plantarflexion for 5 seconds before moving into dorsiflexion – pressing your heels down into the ground and bringing your toes up toward your shins
Hold dorsiflexion for 5 seconds, then repeat for 4-6 cycles
Complete 3 sets
Check out this article if you have insufficient dorsiflexion and want to improve your range.
4) One Leg Tibial Rotation Squat
For this last exercise, it's really important that you slow down and be conservative.
If you rush into this movement with momentum and speed, you're just going to reinjure your knee. But, if you move through this drill mindfully and with control, you'll be helping to rebuild strength in the affected leg.
You'll also be encouraging a healthy Movement And/Or Activation Pattern (or M/AP) for your lower limb.
Your goal is again to stay within your painless range, so if you start to feel pain, just back out of it a bit.

Put your weight on your affected leg as you start to squat down, moving slowly and keeping the weight pressing down through your heel and the ball of your foot
Use your other leg for support, but try to limit the amount of weight it's bearing
Drive your affected knee toward the outside of your foot, internally rotating the tibia and keeping your weight pressing down through the heel and the ball of the foot
Press down through this leg to return to standing
Squat down again and move into external tibial rotation, moving the knee toward the midline of the body and pressing your weight down through the heel and the pinky toe edge of the foot
Complete 6 reps of both internal and external rotations.
Try to complete these exercises every day. It should only take you a couple of minutes and it could save you months of frustratingly slow healing.
You'll be encouraging healthy blood flow to the injured meniscus while reinforcing strength and stability in the knee joint – all good things for healing.
These exercises will definitely get you started on the road to recovery.
But they're just the start – if you're serious about rebuilding not just your knees, but your feet and ankles, which have a huge impact on knee health too, get started on my Lower Limb Control program.
This comprehensive program will help you restore full function by building from basic techniques like the ones mentioned here to advanced, ballistic, and plyometric moves to help you stabilize your entire lower limb with confidence.
Remember to stay in your pain-free range as you progress your exercises, and before long you should be squatting deep and jumping high without those annoying meniscus tear symptoms.