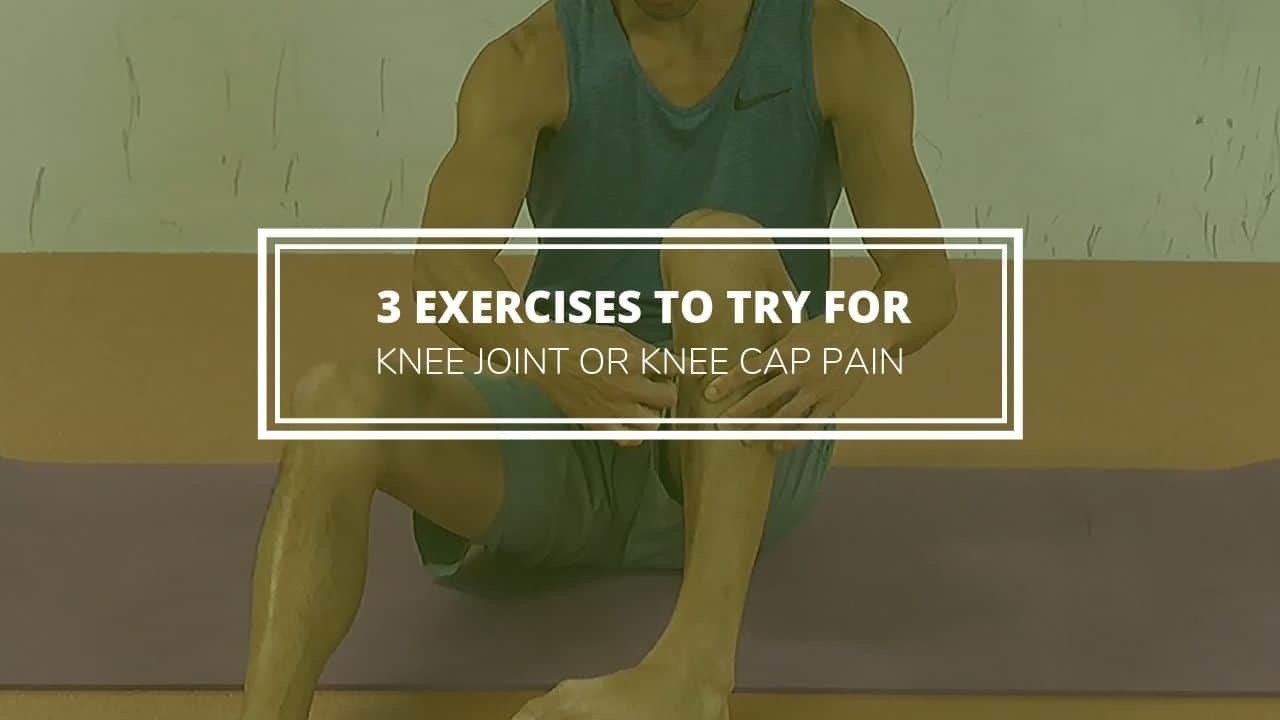 Nagging knee cap pain can really wear you down and mess with your performance. Try these 3 easy exercises to find some knee pain relief.
Knee pain can be tricky to manage because so many muscles cross the joint and issues at either your hip or your ankle can contribute. I'll give you 3 simple techniques that should help ease pain, but first, let's learn a little about the anatomy of your knee.
What You Need to Know About Knee Anatomy
Your knee is actually 2 joints: the tibiofemoral joint between your femur (thigh bone) and tibia (shin bone) and your patellofemoral joint formed between your patella (kneecap) and femur.
Your quadriceps muscles come together to form the quadriceps tendon, which surrounds the patella. Your patella helps give your quads mechanical advantage as they work to extend your knee [1].
Your kneecap moves as you move your knee, so for optimal knee performance, your patella needs to be unrestricted and free to do so.
3 Strategies for Knee Cap Pain Relief
The exercises I'll teach you are great for 3 main reasons.
For one, they all work to bring blood flow to your knee. This is helpful because if there are any damaged tissues in the area, increased blood flow facilitates tissue healing.
Two, these exercises activate all of the major musculature around your knees. This is an important step to interrupting  an unhelpful pain signal.
Sometimes your body can get stuck in a cycle of generating pain signals when a muscle isn't being used properly, which leads to you using a muscle less, which leads to more pain signals and so on.
It's a vicious cycle, but you can help interrupt it by consciously firing the muscles surrounding the knee, which tells the neuromuscular system that they are on and working just fine.
And finally, these 3 exercises will help provide physical relief to the tissues by breaking up adhesions and encouraging a full range of motion so that your knee can move and function how it's supposed to.
Exercise 1: Patellar Active Self-Myofascial Release
In this first exercise, you'll work on manually releasing the quadriceps muscle around the patella. This should help break down adhesions that can impact how the patella moves and cause kneecap pain.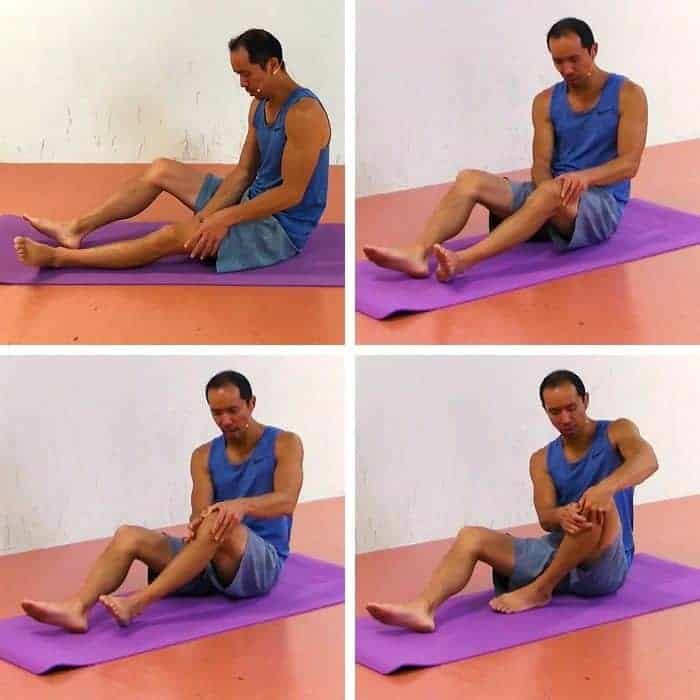 Start by pressing both thumbs into your medial quadricep, about 6 inches above the knee
Slide your thumbs down your thigh and around the patella as you actively flex your knee to bring your heel in towards you
Repeat, pressing your thumbs in slightly lateral from where you started
Continue to work your way laterally, pressing and sliding your thumbs down and over or around the patella as you flex your knee, then repeat the process on the other leg
It's important that you ACTIVELY flex the knee here. Doing so requires your hamstring muscles running along the back of your thigh to contract. Thanks to a neuromuscular reflex called reciprocal inhibition, active hamstring contraction causes reflexive quadriceps relaxation.
If your quads are relaxed, you'll be able to dig in deeper and better release soft tissue restrictions.
Exercise 2: Tibial Rotations
This open-chain exercise works to activate the muscles that rotate your tibia. Your tibia doesn't move as much as your foot does, but it does internally and externally rotate.
If your tibial rotation is limited, it will lead to excess stress on the knee. Utilize this exercise to restore the movement and make sure your knee is functioning optimally.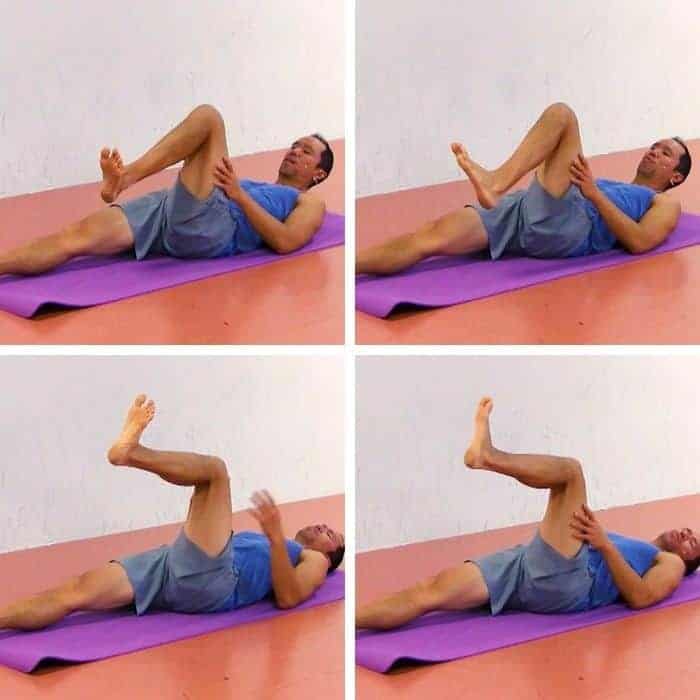 Sit on the floor and flex your right knee as much as you can
Rotate your shin bone (and your foot) internally as much as you can, pausing at the end range, then rotate it externally and pause at end range
Complete 5 rotations in either direction, then straighten your leg out a bit at repeat
Continue completing the tibial rotations at 4 or 5 different angles of knee flexion, then repeat on the other leg
Exercise 3: Hip Bridge with Push & Pull
This closed-chain exercise activates the quadriceps (knee extenders) and hamstrings (knee flexors). As you perform it, make sure you are maintaining neutral alignment in your spine.
Lay on the ground and actively flex your knees as much as you can before planting your feet and lifting your hips up to come into a bridge
Activate your quads as if you were going to push your feet away from you (but keep them planted) and hold for 5 seconds
Then activate your hamstrings as if you were going to pull your feet in towards you, and hold and breathe for 5 seconds
Lower down and relax before repeating 3-6 reps
What Else Can You Do?
I've got a few more tips that you should keep in mind.
If your knees are really aching, try alternating between 30 seconds of hot water and 30 seconds of cold water for about 3 minutes on each knee the next time you take a shower.
This should help give you a little pain relief, decrease inflammation, and also facilitate blood flow, which you'll recall, is important for healing.
If you've had ongoing, unexplainable knee pain, its wise to consider what's going on above and below in the kinetic chain – an issue in your hip or ankle is often the culprit.
If you think this might apply to you, check out some programs I offer. My Lower Limb Control Course focuses on the knees, ankles, and feet and might be a good place to start. Or if you think your hip is to blame, I've got a Hip Control Course that can help.
But start by trying these exercises out for your knee cap pain.
These 3 exercises use a variety of stimulus types & methods (manual pressure, isometric activation, isotonic activation, closed chain, open chain….) to help loosen up and activate the muscles surrounding your knee.
They will help restore tissue quality around the knee cap, ensure active stability of your knee, and reduce pain.
However, if there's a structural problem going on that's causing your kneecap pain (like a ligamentous laxity), these exercises won't cut it.
If after trying these exercises you don't find relief, it's probably time to seek some in-person help. A physiotherapist should assess your knee and help you move forward.