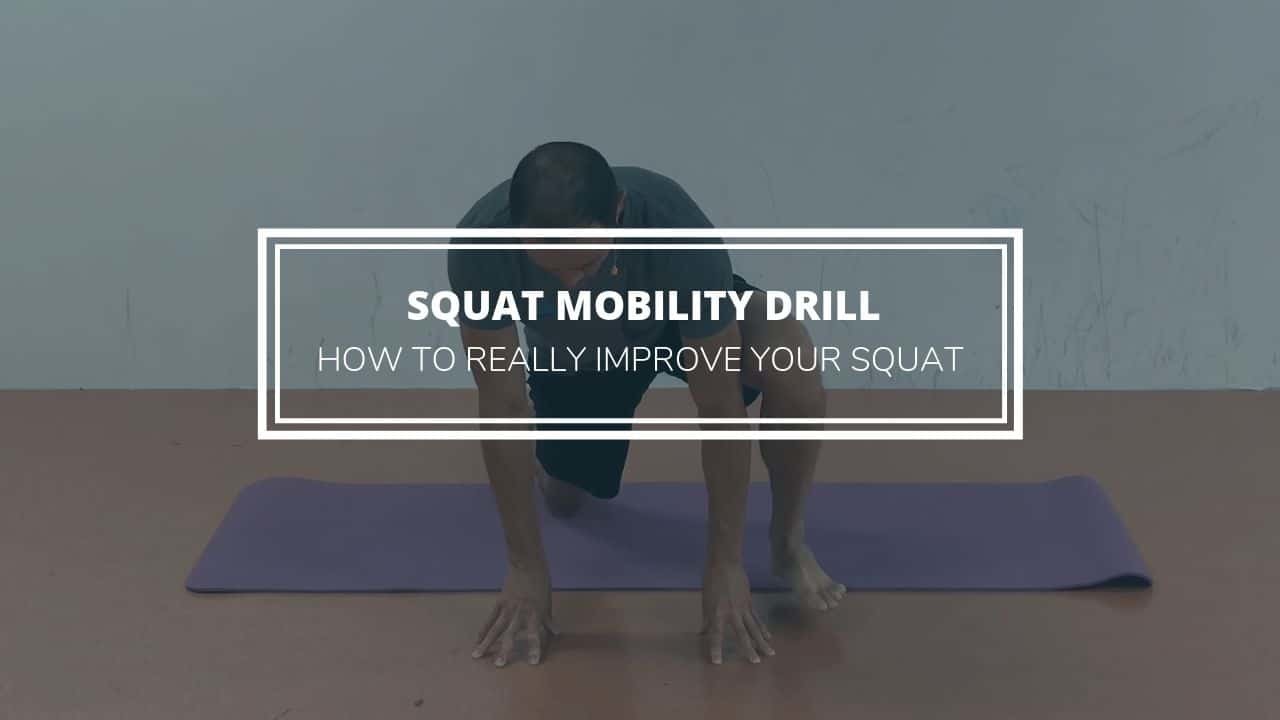 Getting stuck when squatting? This squat mobility drill goes beyond the myths to teach you the truth about how to improve your squat depth.
A Misguided Myth
I've seen it online and I've overheard it in the gym: "I can't squat low because of my tight hip flexors."
Ladies and gentleman, this makes my skin crawl!
This thought process doesn't pass biomechanics 101 and it definitely won't help you squat deeper.
It's easy to get swept up in something you read online, but let's take a look at the biomechanics of squats and then I'll teach you a squat mobility drill that will ACTUALLY help.
Squat Science
To understand why hip flexor tightness isn't blocking your squat progress, let's take a quick look at the anatomy of these muscles, shall we?
You've got two major hip flexors: iliopsoas, a muscle that runs from vertebrae in your low back and your pelvis to insert on your femur (or thigh bone) and rectus femoris, a two-joint muscle that is part of the quadriceps group and crosses both your hip and your knee.
Image by www.yoganatomy.com
We're going to focus on your iliopsoas, because that's the hip flexor that has the most impact on your squat depth.
If this muscle, which runs down the front of your pelvis to your thigh is tight and shortened, it puts you in a position of hip flexion – i.e., the position you need to be in to squat deep.
To lengthen or stretch this muscle, you've got to go into hip extension – or reaching or leg out behind you.
So if your hip flexors are tight, the motion that will be limited is HIP EXTENSION, not hip flexion.
In short: it can't possibly be your hip flexor tightness that is holding you back from squatting deeper AKA flexing your hips more!
BUT this doesn't mean that your hip flexors aren't involved in squat mobility. It's just that your hip flexors need to be functional at their shortened range to maintain stability of both the lumbar spine and hip joint, not that they need to be stretched because their shortness/tightness is impeding your squat depth. [1]
Iliopsoas Activation is Key
Remember that your iliopsoas originates at the lumbar spine. If this muscle is weak or has trouble firing correctly when it's shortened, you'll either be stuck in a shallow mini-squat position, OR you'll be able to go lower, but you'll lose your neutral lumbar spine and go into spine flexion and/or posterior pelvic tilt.
In other words, as your squat gets deeper, your shortened iliopsoas isn't able to activate correctly and you'll go from a neutral spine to a rounded low back – aka the dreaded squat butt wink.
This might be busting another common myth you've heard: that tight hamstrings lead to butt wink. In reality, the iliopsoas is way more at play than your hammies.
So let's learn how to train your iliopsoas and other hip flexors to fire correctly so that you can get into a deep squat position with control and proper form.
An Effective Squat Mobility Drill
This squat mobility drill is an End Range Expansion (ERE) technique that will help you improve mobility and range.
This position mirrors a deep squat on one side of your body and helps you train control over the range and with the other leg being behind the body, it helps to stabilize the pelvis and spine so you can develop this control in a neutral (safe) position.
This is a level 2 ERE technique, meaning we're activating in more planes of motion and making it a bit more complex, but as long as you take the time to understand what you're trying to do inside your body opposed to just mimicking the way the technique looks, you're golden.
Unilateral Deep Squat Level 2 ERE
Get into the half kneeling position with your left leg in front of you – go as deep as you can when maintaining a neutral pelvis and spine (like you'd want at the bottom of a squat)
Put your hands on the ground to the inside of your front foot and start to lift your front foot off the ground – taking a slow 360° breath as you hold
Slowly return the foot to the ground and drive through the front foot as if you're going to stand up (but don't) – hold for a slow 360° breath
Next get as tall as possible and press your left hand on the outside of your left knee, gradually increasing activation between hand and knee and breathing – hold for a slow 360° breath
Next activation is to take your left elbow to the inside of your left knee and press them against each other increasing contraction intensity – hold for a slow 360° breath
Return to the starting position and switch sides
Repeat for 1-3 cycles per side and get up and squat and I bet you'll feel much different.
Use this ERE technique to build strength in the shortened range of your hip flexors to create greater squat depth and control than any hip flexor stretch you could possibly find.
If you're ready to keep moving beyond the myths and want to learn other biomechanically sound methods to improve lower body function, check out my Hip Control course.
It's full of unique, effective ways to improve your hip function, mobility, and control. Don't just take my word – here's what Ryan has to say about it:
"I invested in this course because I was looking to increase flexibility and control for my kicks in Muay Thai and for my guard work in BJJ. I have previously used other courses of Eric's and I was sure this would not disappoint.
I can get deeper into squats without pain or binding. I feel like I can move with more control and my balance is better too. Additionally, after not going to the gym for 6 months and only doing my martial arts and the Hip Control program I hit an all-time personal record with my dead-lifts (about 30lbs above my previous PR) which I fully attribute to the increased strength in my stabilizer muscles from doing Hip Control.
Standard "gym class" stretches like trying to touch my toes, do "the splits" and the like. I would see improvement while I was doing them every day but if I missed any time my results would vanish.
The clear and detailed guide videos that walk you through each technique before going "live." Having the coaching videos separate from the follow-along videos made it nice and convenient." – Ryan
And next time you hear someone blaming their squat mobility on tight hip flexors, shoot them a link to this squat mobility drill so they can learn the truth about how to improve squat depth.